Memorials
Each story shared here is a poignant reminder of the profound bond we shared with our canine companions. We invite you to join us in celebrating the lives of these extraordinary dogs and the profound impact they had on our lives.
✕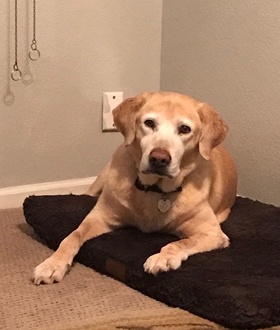 Boomer
It's with a heavy heart that we tell you Boomer passed away peacefully this morning at home surrounded by his family. As we've moved through our many emotions feelings today my thoughts have turned to the lab rescue many times. I can't thank you enough for bringing this beautiful/happy soul into our lives. Boomer always taught us to see the joy in life. We adopted him in 2007 and got a short 12 years with him, but he will always be in our hearts. We very grateful your organization is there so we could have this beautiful boy in our lives. Bless you! The Deans Family
✕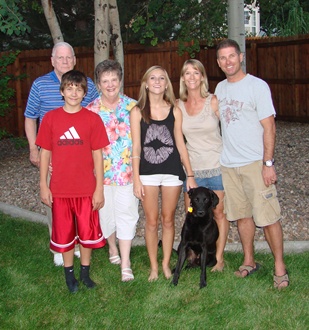 Britain, aka "Duke"
Britain, aka "Duke" was rescued from "death row" on June 30, 2012 by RMLR. He went to live with his new foster family the Borton's and quickly became an integral part of the family. From the very beginning you could tell that he was so grateful to be rescued and be part of a new "pack". From the tail that never stopped wagging, to the "mischievous" look in his eye, to the "happy" sounds he made while playing with his toys. It was a joy watching him gallop around the yard, throwing his toy in the air, shaking his head, and enjoying his new life. He was not only fun to watch, but he let you know that he really loved his new life and for being a part of a family that truly cared for him. He had a very "sly" way of crawling in your lap; one minute you were scratching him on the head, and the next he was in your lap with his head on your shoulder. He was such a snuggler, and he thought he was small enough to fit on any lap and in any chair. Duke found his forever home on July 30th and quickly won the hearts of his new family the Blue's. Just a few days later, on August 2nd he came down with a cough and was treated for a respiratory infection. In spite of the efforts of his new family and their vet his condition continued to worsen. On September 6th Duke left us- a very sad day for all who knew him. Duke's playful and loving spirit and the joy and affection he brought to those around him will be sorely missed. Even though he was only in our lives for a very short time, he managed to leave a lasting impression, and the reminder that you are never too big to snuggle in the lap of someone you love.
✕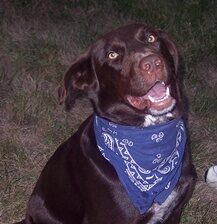 Brownie
Brownie came to her forever home with us in August 2009. She was a happy cheerful dog, always energetic. She loved playing ball and chasing the squirrels in our yard. She was Kyle's best friend, always ready to play, listen or just hang out with him. Everyone was her friend, even if they didn't know it yet. She woke up every morning, happy to greet the day, ready for anything. On her second evening with us, Brownie encountered a skunk in our back yard. It was about 10:30pm on a Sunday night. No pet stores were open. We bought tomato juice and bathed her in the bathtub. She didn't like it, probably thought she'd joined a crazy family. She fit right in, always ready to please. She learned the house rules very quickly, like no jumping on the cat, unless Sushi ran first. Two of her favorite words were car and go. One day we went to Estes Park. It was a long day, lots of time in the car. She liked the stop at the dog park. She was less thrilled with Rocky Mountain National Park, since she had to stay on her leash. At the end of the day, we could tell by the look on her face that, if this trip showed what her people did when they were gone, she was just as glad to stay home. In August 2011 she was diagnosed with atrial standstill. Brownie died on January 31, 2012, just before her 4thbirthday. We miss her every day. Niki Winchell 3/9/2012
✕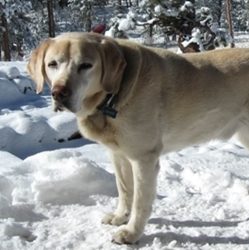 Buck
Our family is devastated from the loss of our good friend. Buck lost to old age and Laryangeal paralisis. Buck came into our lives from the old Foothills/Golden Animal shelter in Applewood. He was more human than many people and lived a life filled with love in his forever home with our family in Bailey where he was praised and gushed over and given constant attention, the hole he leaves in our hearts with his absence is terrible. Buck had a huge part in our family, watching our two boys from Elementary school to manhood, Being an emotional anchor and best friend to all of us. He hiked fourteeners and camped with the boy scout troop in Bailey so many people there have great memories of everybody's pal Buck. Our family is so much richer for having the greatest gift that was Buck a smart dog full of personality and character like no other I have ever met. I only hope I can be half the man Buck thought I was, we are so lucky we had this time together and the family misses you terribly. You will never be forgotten in any way, such is the impressions and lessons from the life full of love you lived with us.
✕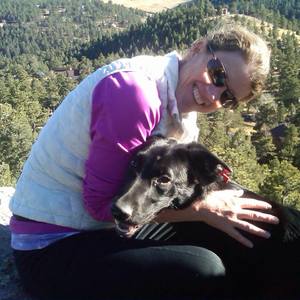 Casey
We truly did love him… I loved him before I even met him when I first saw his pic on your website. He was such a sweet, gentle boy. He loved Jeep rides, hiking, squeaky toys and ear scratches. We have a place in our backyard in Evergreen that I call our "Magic Tree" because there is this little pine stubbornly growing out of solid rock and from that perch the view is beautiful and the setting peaceful. The pic of me and Casey is at the Magic Tree. He only hiked up there once with me but at least we were able to give him a little magic and lots of love in the short time he was with us. Glad we were able to comfort him through his illness and grateful that he is not hurting any longer.
✕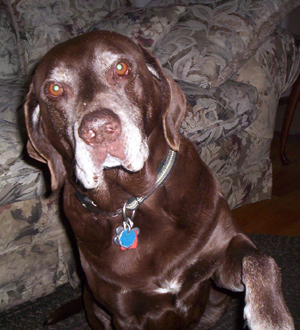 Charlie
His tail was always wagging and he seemed happy to the end. I will always cherish the time we had.
✕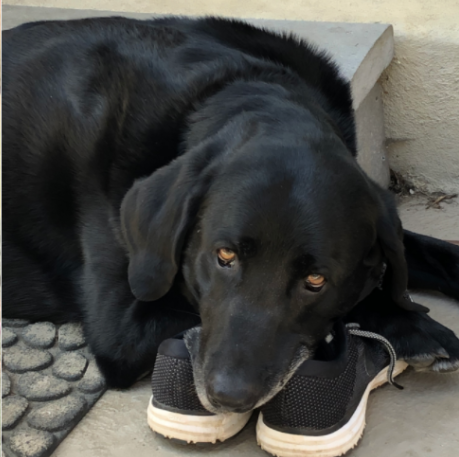 Cooper
In memory of COOPER our amazing Lab rescue. Cooper was an amazing member of our family – when he came to us at one-year-old (2012) he had been neglected and starved, he came into our family and quickly became "one of the pack" with my seven children. Sleeping with alternating kids on comfy warm beds, playing ball in the yard (and occasionally the house haha), camping, hiking, running, swimming-he was part of it all. He was a quick learner and soon became proficient on all the trails in Boulder and knew every water hole along the way. He was an amazing boy and is dearly missed. He passed on October 31, 2021 suddenly of a hemangiosarcoma after a week of hikes and swims. Thank you RMLR for all that you do! Sincerely, The MacArthur Family And Cooper 🙂
✕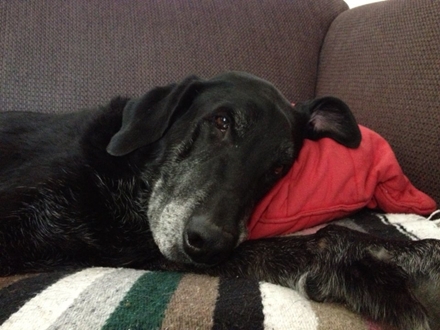 Cosmo
Our sweet baby girl crossed over the rainbow bridge on February 9, 2019. She was diagnosed with T Cell Lymphoma right after Christmas. We were all devastated as Dakota was our everything. We adopted her from Rocky Mountain Lab Rescue in 2009 when she was 8 weeks old. She was a great family dog and watched out for my boys as they were growing up. She enjoyed lots of walks, camping, running, fetch and snuggling. She was never far from one of us. She spent her last 6 weeks doing everything she loved. She is greatly missed each and every day. We love you so much Dakota. The Thompson Family