Training Tips & Recommended Trainers
At RMLR we can't emphasize enough how important working with a positive reinforcement trainer is to the wellbeing of a dog. Positive reinforcement training doesn't just teach your dog behaviors that we like — it teaches your dog how to make good choices, control their impulses and use their brain to manipulate their environment to make good things happen. According to the AKC, positive reinforcement training is neither a bribe nor a gimmick. It's based on the science of animal learning, and it's incredibly effective. When selecting a positive reinforcement trainer, the best qualifications to look for after the trainer's name include CTC, KPA CTP, VSA-CDT, VSPDT, CCPDT, PPG and IAABC.
RMLR Dog Training Recommendations
Boulder to Fort Collins Area:
Group Classes & Private Training
Specializes in basic manners, intro of new pets or baby to the family, aggression, separation anxiety, etc
Private Lessons, Board & Train
Specializes in basic manners, fear, aggression, & reactivity
Private lessons, training courses, free webinars, podcast
Specializes in reactive dogs, adventure dogs, recall, puppy basics
Dog & cat behavior consulting, Board & Train
Specializes in building a relationship between you and your dog, behavior modification, service dog training
Private and group classes
Specializes in basic manners and dog/baby interaction
Castle Rock:
Veterinarian specifically trained to work with behavior problems
Can also prescribe diets, supplements, and medications to support the behavior modification and training provided
Specializes in fear, aggression, separation anxiety, dog-dog issues, etc
Colorado Springs:
Group Classes, Private Training, Dayschool
Specializes in basic manners and reactive dogs
Denver Metro Area :
Private in-home training, Board and Train
Specializes in basic manners, separation anxiety, loose leash walking, behavior modification
Dog behavior specialist
Specializes in touch sensitivities and separation anxiety
Private training, puppy socialization, group classes, day training, Board & Train
Specializes in puppy basics, basic manners, confidence building, and socialization
Private training, Board & Train, service dogs
Specializes in basic manners, puppy training, and aggression
Basic Obedience
▼
House Training
1 – SUPERVISE – this really is the most crucial step in the process. If you aren't watching and the dog has an accident in the house, it's a lost training opportunity. Disciplining your dog will only cause problems and make the dog afraid. You need to actively supervise your dog so any accidents can be caught as they occur and proper feedback can be given. This includes an interruption, followed by bringing the dog outside. Then, clean it up with a pet specific enzyme cleaner. Ammonia containing cleaners can encourage your dog to go in the same spot again.  Puppy pads or newspapers are not recommended. Sometimes using a leash the first few days can be helpful. If you cannot supervise, use an appropriate crate. If an accident happens, know you need to do better at supervising.
2 – SCHEDULE – initially, this is very important.  Learn about your dogs and their bathroom habits and feed your dog at a set time, so their bathroom habits are predictable. Most puppies, and even adult dogs, will need to relieve themselves after sleeping, eating and playing. Young puppies will need to relieve themselves at least every 30 minutes when awake. Use your leash to direct them where you want them to eliminate and praise them when they go.
3 – FEEDBACK – be sure that you are able to praise/reward your dog when they go outside and stop them when they go inside. Any missed accidents are wasted opportunities and rehearsals of the wrong behavior. This will work against you. In your absence, your dog is still getting feedback, but it's likely contrary to what you'd like them to understand. When a dog has to go to the bathroom, it doesn't feel good. When they go, it does feel good! That means, there is a level of reinforcement that comes along with emptying their bladder/bowel. If there isn't anyone there to tell them it's "wrong," they're likely to feel the relief and assume it's "right." Rehearsal of the wrong reinforcement will only set them up to make further mistakes.
4 – RESPONSIBILITY – once your puppy or dog understands that they should eliminate outside, it's time to put the onus of responsibility on them to ask to go there. Decide how you'd like to have your dog notify you that they need to go out and set it up. For example, you may want your pup to come to you, sit and stare. When you need to take your puppy out, start with them at that door, ask them to sit and look at you and as their reward, open the door to allow them out. With some diligence and information, any puppy can be well house trained in no time.
If you are struggling with house training, have your dog checked out by a vet to rule out medical problems like UTI, which can make house training impossible. 
Crate Training
Never use a crate as a punishment. It is a management tool. A crate should not be used for long periods of time even with a midday break. With the exception of night time, a puppy should not be in a crate for a total time of age in months to hours. A six month old puppy should only be in a crate for a total time of six hours until the dog is a year of age. No dog should be left in a crate on a daily basis for more than eight hours.
Setting up the Crate: Regardless of the type of crate you select, it is important that you have the correct size crate. The crate should be large enough that the adult dog can stand up, turn around and lay down. For puppies, have the crate in a location where they will not feel alone. For adult dogs, have the crate in a space where the dog can get some alone time, if needed.
Making the crate a comfortable place for the dog is important. Sometimes a blanket over the top can be used to block out visual distractions. Calm music can block noise distractions. Use a snuffle mat or special chews to make it a positive experience. Feeding your dog meals in the crate, while keeping the door open, will help associate a positive feeling. Never use the crate as a punishment for your dog.
Steps:
Step 1: Make sure your dog's needs are met before putting into the crate: exercise, enrichment, food, potty break. It is best to crate when you have a tired and satisfied dog. Don't rush the process! Short and positive is the key. Don't shove your dog into the crate. This will only create an unpleasant experience.
Start by tossing treats into the crate with the door remaining open. When the dog is completely in the crate, toss another treat. When your dog comes out, repeat.
Start adding verbal cues like "kennel" right before you toss the treat. Heavily reward the dog with treats the longer he/she stays in the crate, especially if they are lying down or sitting.
Step 2: Slowly start closing the door and reward your dog for being in the crate with the door closed. Open the door and give a cue for releasing from the crate. Repeat this step several times.
Step 3: Slowly start increasing the time in the crate. Sit by the crate and watch TV or read. While you are walking around, occasionally drop a treat in the crate without giving attention. Put your dog's favorite chews or toys in the crate. A frozen, stuffed kong (filled with peanut butter, cottage cheese, or canned dog food) is another great toy for the dog to work on while learning to relax in the crate. These are items that are saved specially for the crate. Only let your dog out of the crate when relaxed and calm.
Here is a link to Emily Larlham, a professional dog trainer, YouTube channel Kikopup for short videos on crate training.
If you are having a lot of trouble and/or the dog is showing extreme distress (intense panting/salivation, barking for hours on end, trying to (or succeeding in) escaping the crate,  reach out to a recommended trainer for help ASAP.
Impulse Control
▼
Impulse control means your dog has the ability to resist the temptation to perform an unwanted behavior that would give them access to a desired reinforcer…basically, they can control themselves. All dogs need to be taught impulse control. Many unwanted behaviors from jumping up to leash reactiveness can be a result of poor impulse control. It is important that your dog learns that rewards come from you and rather than acting upon the environment.
Teaching your dog the Wait command, which is different from Stay, is one of the easiest ways to start teaching impulse control. The dog needs to practice impulse control because they know they are on a pause. Use a release word when the pause is over. Practice the Wait command during feeding times, going through doors, jumping out of cars, and any area you want your dog to pause.
Teaching Leave It is another great way to teach impulse control. Leave It can be used when there is anything on the ground your dog covets, but you don't want them to have it. It teaches your dog that ignoring a desired reinforcer will lead to a better reward. 
Teaching your dog to check in with you on a leash when he wants something will help build focus. This will help the dog disengage from distracting from things on walks
Have your dog on a leash and toss a treat out of his reach

Wait for the dog to stop pulling towards the treat

When he stops and looks at your, give him a different treat for looking at you

Only then, can he walk towards the treat on a loose leash.
Another important skill is teaching your dog to Settle or Go to a Mat. The mat is only on the ground when playing this game. The mat should be a novel blanket, towel, or mat and not the dog's bed. 
Place the mat on the ground in front of your dog

Say yes and treat for any interest of the mat-sniffing it, paw on it, moving towards it. Keep treating if your dog stays on the mat

Gradually narrow your criteria. Work towards only rewarding your dog for laying on the mat
This is only the basic concept. Here is a website page from Journey Dog Training with a detailed description and video of mat training.
A recommended reading on the topic of impulse control is Fired Up, Frantic, and Freaked out by Laura VanArendonk Baugh
Adjustment Period for New and Existing Dogs
▼
Don't rush integration. We know you're excited about your new addition but make sure you take things slowly! Presumably your two dogs have done a meet and greet and that went "fine," so it's easy to think they're just best buds. But even the most dog-friendly of dogs can be overwhelmed with moving to a new home with new people and new everything. Your resident dog might be overwhelmed with all the commotion this new dog is causing, the attention the new dog is getting. Your existing dog is also trying to navigate sharing his people and stuff.
Use physical barriers like crates, x-pens and baby gates to separate them. It is also recommended to leave leashes on with them dragging so you've got them as a grab tab in the event you need it. Do not leave them unsupervised until they have fully accepted each other.
Brush up on dog body language. This will help you quickly recognize and intervene if things get tense before it escalates into uncomfortable territory. Here is a great video on recognizing dog body language. Happy talk, use food and split them up. If you can't interrupt fast enough and it escalates into a fight, use the leashes to try to separate them, throw a blanket/towel over them, use a chair or other object to insert between them, wheelbarrow the dogs (lift them up by their rear legs) or if you're outside, use a hose to spray water between them. Never reach in between the dogs or try to grab collars to break up a dog fight. This is how people often get bit when trying to break up a fight. Here is a great video on recognizing dog body language. https://youtu.be/kH2ZFVIeGXY?si=sfLFZPJIFV_fi6QF
Familiarize yourself with what normal dog play looks like. Often play can be loud and scary sounding. This video and this one are great examples to really learn about dog play and what is normal, even if it sounds a little scary. This video and this one are great examples to really learn about dog play and what is normal, even if it sounds a little scary.
https://youtu.be/mzEgrLcxtUQ?si=UUTjxELRki2wP5kZ
Use caution with guarded resources. Carefully monitor interactions around anything that could be a guarded resource (toys, chews, bones and food bowls – even empty ones). Some dogs will guard spaces, people and resting spots. In the beginning, dogs should be fed separately and toys given supervised with distance between the dogs. Never punish a dog for resource guarding. It reinforces they have a reason to guard and can escalate the intensity. Please refer to our resource guarding section for more details.
Beware of "Grumble/Growl" zones. Tight spaces like hallways, doorways, tight passes round furniture or small rooms like bathrooms, where the dog may feel trapped or not have space to turn around to escape can also be areas of tension. Family Paws calls these areas "grumble/growl" zones because they are areas where a dog is likely to get growly.
During feeding times, be sure to physically separate dogs. When it comes time to give out food and treats, feed the new dog first. This can help create a positive association that the new dog getting something predicts your existing dog is about to get something. When feeding treats, stretch your arms out as far as they go and feed each dog from that hand. Feeding them close together could elicit guarding.
Ensure both dogs get lots of individual attention, including training time. This will help your new dog settle and give him one-on-one time with you to bond, but it will also help your existing dog not be neglected with all the attention being on your new friend. Try to disrupt your current dog's routine as little as possible.
Once your new dog is settled in, then you can begin to extend their time together and the more you'll learn about the dynamics between them. You'll learn triggers and what they can safely do in the same space. But let this play out over time. Don't rush it.
*Information taken from Kate LaSala certified behavior consultant
Kids and Dogs
▼
When kids are involved in selecting a new family dog, it is especially important to find the right match. We would like to share some information with you regarding appropriate and safe interactions between young kids and rescued Labradors. These two videos are very informative: I Speak Doggie (great to watch with kids!) and Stop the 77.
We cannot state strongly enough the importance of supervising young kids around a new dog. This can be especially critical when toys, treats and food are involved. We suggest having a plan for what to do with the dog when your attention is elsewhere and you can't be closely watching the interaction between the kids and the dog. We recommend using baby gates or having a dog bed and water in another room for the dog so that you can quickly and easily move the dog to provide safe separation from the kids. Dogs should not be allowed to sleep in the same room with young kids, due to the lack of parental supervision.
It is important to teach the kids how to read a dog's warning signs that indicate discomfort so they know when they need to give the dog a break and some space. These warning signs can include nervous switching of the tail, flattening of the ears, and attempts to back away or escape the encounter. Escalated and extreme warnings include snarling of the lips, showing of teeth, and growling. When this occurs the next escalation is usually a bite. We never want it to escalate to this point, so parental supervision is very important.
Resource Guarding and Growling
▼
Resource guarding is a natural animal behavior — humans included! Access to resources like food, water, and a safe space is essential for survival. Guarding of people, objects or miscellaneous items can be part of it. It's hardwired into animal nature to protect the things we believe we need to survive and are valuable. 
Dogs will communicate their internal feelings of their possessions or space by displaying the need to guard. Many of these signs of communicating through body language are missed by humans until a growl is displayed. Dogs will often freeze up and give the "hard-eye" stare at an approaching human or dog. In contrast to freezing, some dogs will have an accelerated consumption of the food or object they are chewing. They may also move to another spot. They may shift their body to block the item or space they are guarding.  These are all ways a dog communicates before a growl, snap or bite happens. 
With dog-to-dog resource guarding, management is crucial! 
What to do for dog-to-dog resource guarding:
Manage the environment by feeding and treating dogs separately and never free feed food.

When making meals in the kitchen, keep dogs out by teaching them to "place" on their bed or use a crate. A dropped piece of food is a potential item to guard.

Make sure toys are not sitting out. When giving toys or bones, use a crate or a gate to separate dogs.

For dogs who guard space, blocking access to areas without supervision is critical. 
What to do for dog to human resource guarding:
Don't allow dogs on furniture to prevent a potential space that needs guarded.

Let dogs eat in peace and never approach while eating. Especially critical with children. 

Give chew toys in a crate or safe space where they cannot be bothered. 

If you need to retrieve something from your dog, exchange it for a high value treat to retrieve the item. Wait for the dog to drop the item, once they do, give a treat or toss a treat to the side. When the dog goes to pick up the treat, pick up the item. This should be done by adults only.

Teach your dog the command to Drop It or Leave It with a high value reward.

Recognize the body language signs. Pay attention to whether or not the dog is freezing up or eating fast. Respect them when they move to another spot or change positions to block. 
It is just as important to know what NOT TO DO:
Never punish the growl!

 Punishing a growl will only make the dog more likely to snap or bite. A dog growling is their way of communicating without escalating to a bite. 

Do not play with their food and chew toys. Don't stick your hand in their food or take it away in an attempt to get them "used to" having it taken away. This will only increase the resource guarding. This is true with puppies too. This can create an adult dog that resource guards. 



These are only a few suggestions on controlling the environment. With resource guarding, especially with children in the home, it is best to consult with a certified positive reinforcement trainer. Please refer to our website for suggested trainers. An excellent book to read is Mine by Jean Donald Donaldson. It is a short read and explains resource guarding very well. 
Reactive vs Aggressive
▼
Overcoming Your Dog's Leash Reactivity
Alex Sessa CPDT-KA, CDBC, VSPDT
Leash reactivity is one of the most common behavioral challenges that pet owners face. Holding your dog's back while they're barking and lunging can be frustrating, frightening, and downright embarrassing! Although it can feel like there's no hope for enjoying your walks again, the good news is that leash reactivity is entirely treatable.
Let's talk first about what causes leash reactivity. Believe it or not, although your dog's behavior on leash may look and sound intense, many reactive dogs aren't actually aggressive. And although our treatment for this issue remains essentially the same regardless of the cause, it's important to really get to the root of this behavior in order to successfully understand and effectively work with each individual dog.
Frustration-Based Reactivity 
Dogs exhibiting frustration-based reactivity tend to interact well with people and other dogs off-leash, but may bark and lunge at them when on-leash, behind a fence, and/or at windows. Owners often describe these dogs as "desperate" to get to people and other dogs.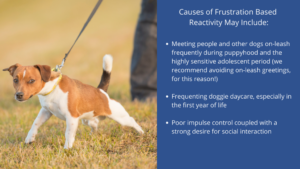 If you have a dog that falls into this category, they are typically highly social in many contexts, but may struggle with polite greetings and/or being contained behind a barrier. Even though this type of reactivity is based on "excessive friendliness", essentially, your dog may still sound and appear aggressive to the untrained eye.
Insecurity-Based Reactivity 
Dogs with insecurity-based reactivity are genuinely uncomfortable in the presence of people and other dogs. Although their on-leash behavior can appear quite threatening, these dogs are actually seeking to avoid conflict. Their barking and lunging is an effort to keep the person or other animal away.
If given the opportunity to greet a dog on-leash, these dogs will typically begin showing avoidance behaviors and may try to escape the situation. If given no way out of the interaction, they may growl, snap, or even bite the person or other dog they were trying to avoid. This is another reason why it's so critical to avoid on-leash greetings! The leash takes your dog's option of "flight" away.

The Confident, Reactive Dog 
People are often surprised to hear that these cases are the exception and not the rule. Leash reactive dogs can come across as bold and offensive, but the vast majority of them are quite the opposite.
However, there are a small percent of dogs that we would classify as confident, reactive dogs. These dogs are not uncomfortable at all with the sight of a person or other dog. Like the frustrated group, they desperately want to get to them, but the difference is that they are seeking out conflict.
These dogs will cause bodily harm to a person or other dog if given the opportunity. Because of that, they present a liability to their owner and to the general public, and should be conditioned to enjoy wearing a basket muzzle if out on a walk.
You'll notice that the causes of this reactivity are similar to the causes of insecurity-based reactivity. Individual dogs respond to these same triggers and life events differently!
Leash Manners
▼
Addressing Leash Reactivity
For our purposes, this plan will reference a dog that is reactive towards other dogs, but this exact same training can be used for reactivity towards bikes, cars, squirrels, people – you name it.
This type of behavior modification can be tedious, and requires great attention to detail in order to be truly effective. We recommend consulting a qualified behavior professional to help you maximize results!
You should not be walking your dog in public until you reach the appropriate step in the training process, unless you feel confident you can avoid all potential triggers initially.
Step One: Create a strong association with a marker word. 
We recommend starting this first step indoors, as it's critically important that we start with as little distraction and stress on your dog (and you!) as possible.

With your dog standing in front of you, lift a toy or other interesting object into the air. (You can also have a helper lift the toy – just be sure your dog can see it!)

As soon as your dog looks at the toy, say the word "yes!" in a bright and clear tone.

Say "yes" only one time, and follow promptly with a high-value food reward. You are not asking your dog to do anything specific here other than looking at a toy – we are simply pairing this word with something your dog loves.
Step Two: Begin applying this association in a controlled and planned scenario. 
It's time to practice this in a more realistic scenario, but it's still important that you are not yet out in the "real world". (The more your dog practices the barking and lunging behavior, the longer it will take you to see true success.)

This step can take place in your neighborhood (if quiet) or at a quiet park. Our goal is that your helper dog is the only dog you'll encounter at first.

With that said, you have a few options for this step. If you have a friend that has a non-reactive dog, enlist their help! You can also purchase a fake dog to use instead. (Just be sure your dog doesn't see it

You should be armed with a treat pouch with lots of those high-value treats we discussed. Have several pieces of food already in your hand.

With your dog put away, set up your helper dog and handler at a SIGNIFICANT distance away. This is critical to success.

Bring your dog out so that they can see the other dog. You and your dog will remain stationary, but the helper dog can be walked back and forth at a distance from you. Do not ask your dog to sit or lie down.

The moment your dog notices the other dog, say "yes." One of three things will happen:
A: Your dog will look back at you expectantly. Bingo! Reward and praise heavily. They may look back at the other dog several more times – repeat this process each time your dog looks at the other dog.

B: Your dog ignores your word, and is staring at the other dog, but quietly. You are a

little bit too close

. Quickly and calmly add distance and try again – do not repeat the word "yes."

C: Your dog starts barking and lunging at the other dog. You are

way too close.

 Quickly and calmly add distance and try again – do not repeat the word "yes".
If your dog is doing well with this step, practice a few more times (with breaks in between), but keep each dog exposure short (30-60 seconds or so.) If you overdo it, you may lose your progress.
Step Three: Take Your Training to the Real World
Once you and your dog feel confident with this process while working in a controlled situation, you may begin seeking out real-life training opportunities. Note that some dogs struggle the most in their own neighborhood, so you may want to consider starting in a more neutral environment.
The process remains the same as step two – you just have less control over the behavior of the other dogs you encounter.
What you do have control over, and what will define your success, is:
Your distance from other dogs

Your use of high-value food, isolated only for leash training

Quick timing with your marker word

Correct timing of your marker word – if your dog is already barking and lunging, you should not be saying "yes" or trying to reward your dog.
Remember the basic process:
You see a dog coming. Proactively add distance between your dog and the oncoming dog, and stop as they go by.

The moment your dog notices the other dog, mark "yes."

Your dog should look back at you – reward.

Repeat for each look.
Step Four: Start allowing your dog additional choice and control
If you're seeing consistent success with steps two and three, congrats! You're through the most difficult part of this process. Now you can begin the process of slowly offering your dog more choices, and backing off your level of management.
Until now, you have been stopped while dogs pass by. Now, you can begin doing this process in motion.

It's also time to start trying what we call "the pause."

When your dog sees another dog, instead of immediately marking "yes," pause. Count slowly to three in your head. Let's see if your dog can do this independently!

Within those few seconds, your dog should turn back to you automatically! They've learned that the appearance of a dog is their cue to look at you.

 And that is where the magic happens!

When your dog looks back at you, NOW it's time to mark "yes" and reward.

As you work on this step, you may find that your dog stops caring about some other dogs as they pass. This is a great sign that your walks are going to start getting a whole lot easier! If your dog is disinterested and non-reactive in a passing dog, there's no need to mark or reward those interactions at this point.
Some dogs will require a lifetime of highly managed walks, but for others, you'll be able to fully phase out this process over time.
A few final thoughts. 
Although we discussed the many possible causes and categories of leash reactivity, it's so important to understand that your dog's leash reactivity is not anyone's fault, and is not an indicator of your success or failure as a dog owner. Dogs are complex, highly emotional beings, and we cannot fully control every life event or their genetic makeup. As you go through this training process, remember that there will be successes, backslides, and that truly changing behavior is not fast or easy. Focus on small wins and move at a pace that's comfortable both for you and your dog, and you'll be amazed by the changes you'll see.