Heartworm FAQ
What is Heartworm Disease?
▼
Heartworm larvae are carried by mosquitoes and transferred to dogs via mosquito bite. Once a dog is infected, the larvae mature and become adult heartworms. When the adult female worms release their larvae into the dog's bloodstream, the next mosquito that bites the dog becomes infected and will transfer the disease to the next dog that it bites. This is a continuous cycle.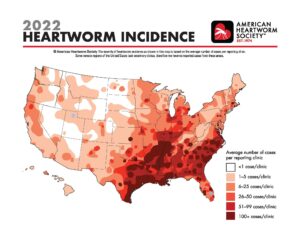 Heartworm disease has been detected in all 50 states, so it is extremely important that owners give their dog a monthly heartworm prevention pill. All adoptable RMLR dogs that are not heartworm positive are given monthly heartworm prevention pills. Contact your local veterinarian for more information on heartworm prevention.
Heartworm disease is exactly what it sounds like – worms that live in the heart, lungs, and blood vessels of infected dogs. It can be detected by a simple blood test. Some dogs in the early stages of heartworm may show no signs of the disease, while advanced heartworm disease can cause a cough, sluggishness, trouble breathing, and heart problems. Heartworm disease is a potentially fatal condition in dogs if left untreated. All RMLR dogs are tested for heartworm prior to adoption.
What does Heartworm Positive mean to a dog in a shelter?
▼
RMLR believes that heartworm positive dogs deserve a second chance at life – they are fantastic dogs that deserve a loving "forever" home. When RMLR brings in a heartworm positive dog, we are committed to paying for the treatment.
For a dog that has found itself in a shelter, a positive heartworm test can be a death sentence. Heartworm disease is expensive to treat, and most shelters can't afford the time or money that goes into the treatment.
What is the treatment for Heartworm Disease?
▼
RMLR works with vets that follow the treatment protocol from the American Heartworm Society. The entire process takes 3-4 months. During treatment, the dog should have restricted activity (no running or playing). After treatment, the dog can resume normal activities. Learn more about the treatment steps here.
What is the prognosis for a Heartworm Positive dog?
▼
Every single heartworm case is different. The prognosis is based on how severe the heartworm disease is, how long the dog has had it, the age of the dog, the activity level before and during treatment, and the dog's immune system response. According to the American Heartworm Association, most dogs can be successfully treated. These dogs may have some permanent lung disease that would prevent them from being a top working dog, but they will do just fine as a family pet.
What are the activity restrictions for a Heartworm positive dog?
▼
As soon as they are diagnosed, they need to have their activity restricted. No playing, no long walks, etc. They could go on a short walk if it's not too much strain on them (the older the dog is, the more strain the heartworm puts on them). Also, remember that most of our dogs are not adjusted to the altitude so a short walk might make their heart rate increase quite a bit.
After their first shot, they need extreme activity restriction. This means a lot of cage time (unless the dog doesn't want to be active anyway), and the dog must be leashed for potty breaks (so that they don't see a squirrel and run off after it!). No jumping on the couch, no large flights of stairs, even car rides should be kept to a minimum. Absolutely no playing. Now is a good time to give the dog Kongs or other activities they can do to keep their mind busy but keeps their body calm.
After their last injection, they must wait 6-8 weeks before re-introducing exercise. Same items as mentioned in the bullet point above. Our vets will clear the activity to resume. Introduce it gradually.