Every adoption is a success story. Finding a dog their forever family is a great
thing, no matter how difficult the path was to get there. Do you have a RMLR adopted dog that is
loving life? Send success stories (1 picture & 2-3 sentences) to rockymountainlabrescue@gmail.com
Success Stories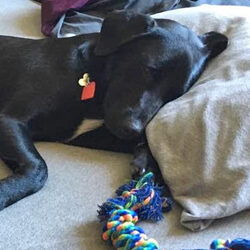 We just wanted to share with everyone how great our boy Fin is doing! He's quickly adjusting to his new life full of hugs and kisses. He loves to cuddle at night, chew his rope (he has gone through two already) and play! He recently discovered how much fun swimming and fetch can be! We take him on awesome adventures and boy does he run fast! He is such a sweetie and we see more of his goofy personality each and every day. We are so lucky to have him in our lives! Thank you so much RMLR!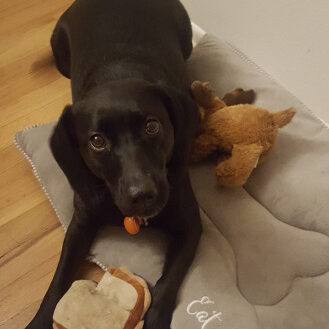 Luna (formerly Tootsie) is our best friend, snuggle buddy and walking partner. She is, seriously, the best addition to our home. She loves snuggling in her blankets, playing fetch and hanging out with us. She keeps us outside and walking and we could not have imagined a better pup to care for!! Happy One Year Adoption Anniversary, Luna!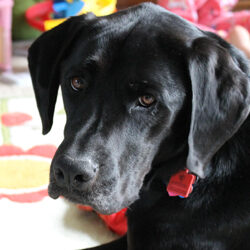 "We just wanted to share with you all how amazing our new boy Spencer is doing. He has quickly adjusted to a life full of comfy beds, lots of love, and too many toys to count. He is a absolute sweetheart and we are so lucky to have him." - Jessica, Ryan and Alexis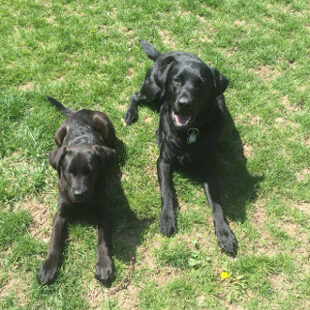 We adopted Oliver originally Crow about a year ago, he is the most perfect addition to our family. His best friend is Tayte (a shelter rescue). Thank you Rocky Mountain Lab Rescue!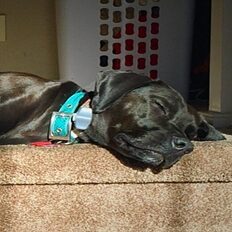 "We took Sadie in at 9 months old as a foster/adopt and decided right away to keep her. Well, this little girl sure tested us! Digging, jumping, escaping, chewing… but we promised her we wouldn't give up on her and we didn't. Training and an invisible fence and she is quite the sweet little lady now, manners and all. We just LOVE Sadie and we are so glad to be her forever family! She is now 4 years old."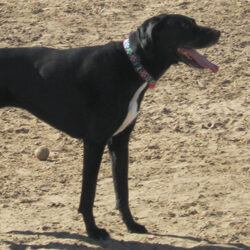 When Lilly was initially evaluated by one of RMLR's affiliated vets, it was discovered that she had torn ligaments in both hind legs. That had to be painful! No wonder she walked oddly -- and she was 40 pounds overweight! RMLR paid for the expensive "knee" surgeries she needed, and her RMLR foster family helped her through months of rehabilitation and weight loss. Her foster family chose to adopt her; Lilly has been with us over a year now. She is smart and healthy and happy and loves to sprint after tennis balls at the dog park. Lilly's message to RMLR is: "Thank you! Thank you! Thank you! It is a miracle that I feel this good and I am this loved!" ---- Joanna and Maris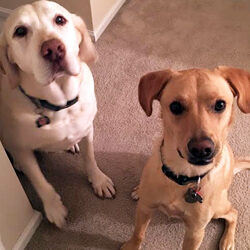 "Hammitt has been with us since July of 2015, and is now Oliver (Ollie for short)! When he is not busy play fighting with his big brother Gus (also adopted from RMLR), he is snuggling with his family and being mischievous! Thank you RMLR!" - Ashley, Sean and Gus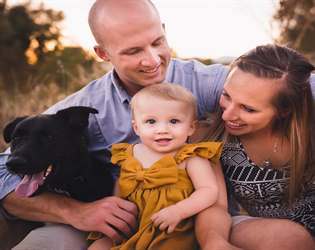 "We adopted Avery in September of 2013 from RMLR. She was 4 months old at the time and living with a wonderful foster family and some of her siblings. She has been the sweetest, most loving and wonderful addition to our family. In September of 2014, our first daughter, Alexandra was born. Avery has been Alexandra's protector and best friend. The love playing "catch" together and Alexandra loves giving Avery hugs. We could not ask for a better dog for our young daughter. I know our dog has a great natural temperament, but I know part of this is because of the love and attention she was given as a puppy in RMLR's foster home program. Thank you for all you do RMLR!" - Stephanie, Brandon, Alexandra and Avery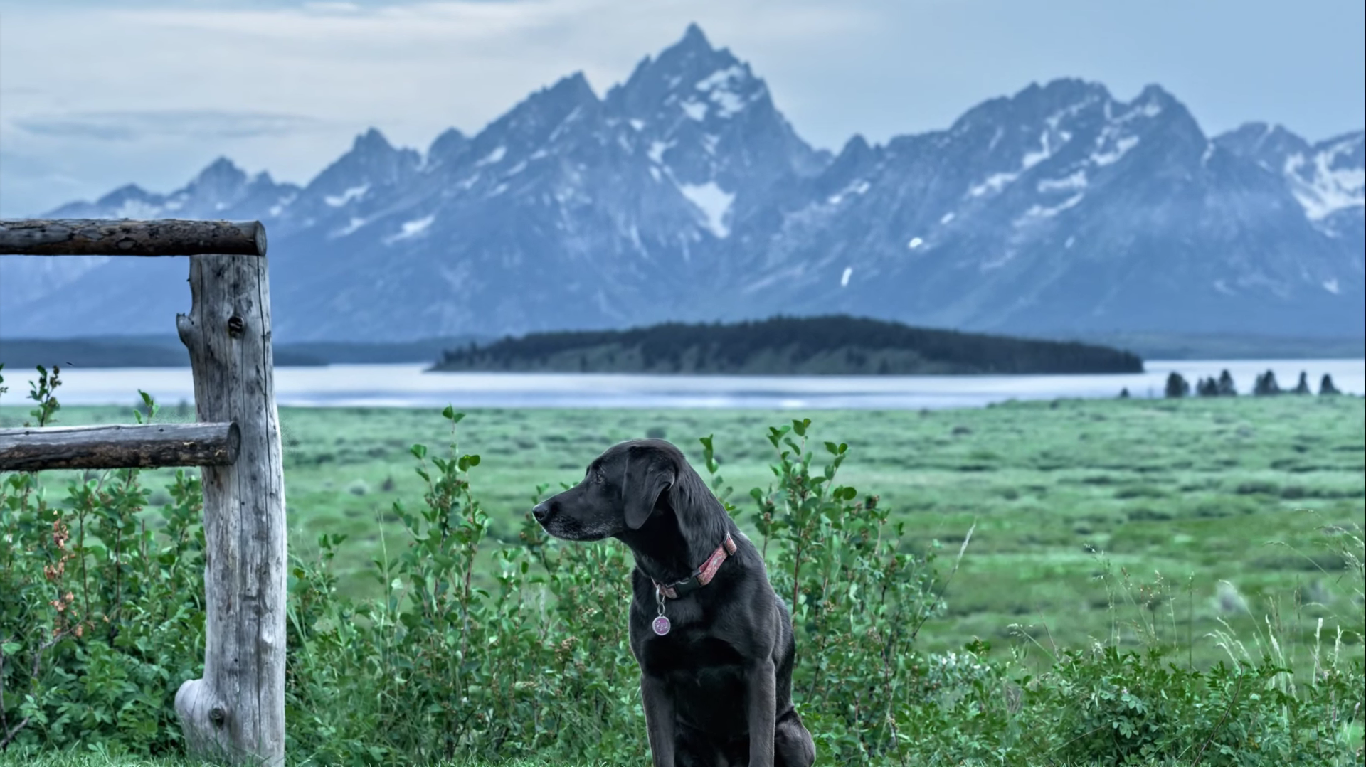 "Gussie had a flawless year. No vet trips, but lots of trips through the west in the small RV I got in April. I thought I was getting a dog. I didn't know I was getting the love of my life."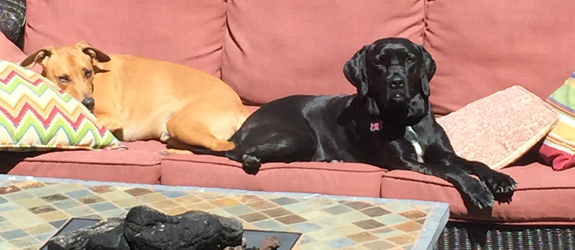 We have had Katniss since 5-15-12. She is doing really well and loves her brown buddy Jake. Thank you for providing such a wonderful program!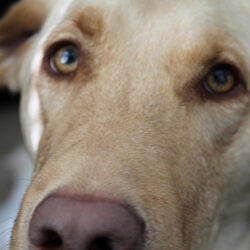 Tucker is an energetic lovable dog who has made our house a home.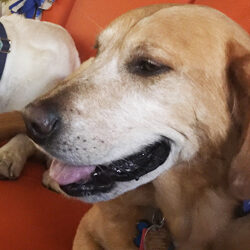 "Leo is now an absolutely irreplaceable part of our family. We love him soooooo much!!!"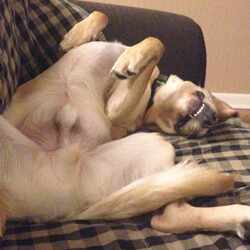 "Within moments we knew Rhett was meant to be part of our lives! We couldn't have asked for a better pup! He fills every minute with happiness no matter if he's awake or asleep..."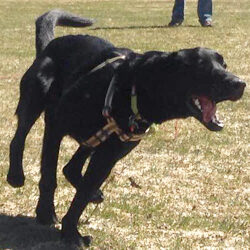 "Dasher is now named Enzo and starting to recognize his new name. He is adorable and we think everything he does is adorable. He is loving the snow and hopefully loving us as much as we love him!"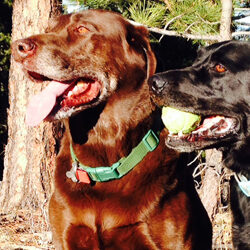 "Beau and Luke are doing great in Evergreen."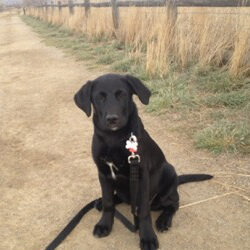 "I just can't even begin to tell you how much we adore Bud. He is so adorable and sweet. What a wonderful addition to our family!"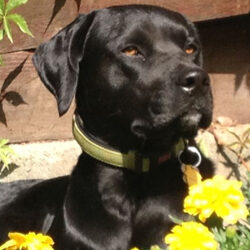 "Raff (Dallas) is such a wonderful dog and is becoming more and more trusting as the days pass. I think he is realizing that he has a real home and parents that love him. What a gem of a dog."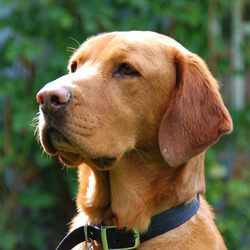 "Rumi recently graduated from obedience school, being one of the top dogs - he loves to please. He is much more confident than he once was. In fact, he can be a little pill, making sure that every Nylabone in the house is gathered up and kept away from Dharma."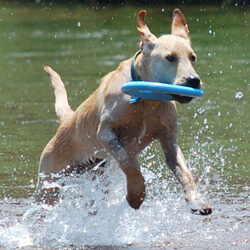 "We've managed to turn this TX dog into a true CO mountain pup, with multiple visits to the river for some swim time. Thanks again for finding this amazing dog for me! I love him so much!!"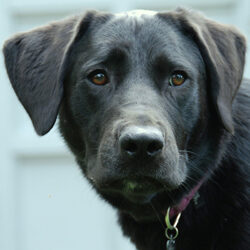 "Dharma was only a pup when she came to us 2 1/2 years ago. She is brilliant and beautiful. Thank you so much for the work you do which has allowed these two amazing dogs to grace our lives."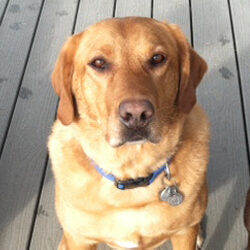 Boomer's doing great. He's got TONS of energy and gets along fabulous with his brothers."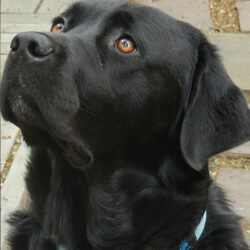 "It is Sam here and I just wanted to send you this quick note of how I am doing. I have been on many adventures to a National Forest, Trail Ridge Road and I had my first taste of Rocky Mountain Snow."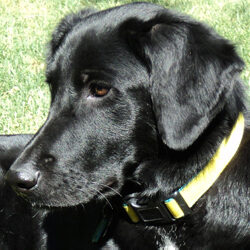 "Osa is the best dog anyone could imagine. Very smart and full of love! Thank you for bringing such a wonderful dog into our lives. She has brought us so much joy!"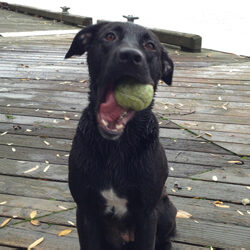 "Pippa has brought tremendous joy to our life. For only being 50 lbs, she really knows how to hog the covers when we have family movie night."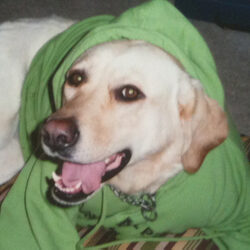 "Hi there! My fam and I LOVE each other. Thanks for hooking me up! Only question I have is this: I thought my name is "mya"- why do they keep calling me "no kitchen!"?"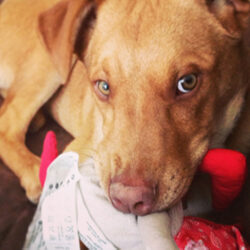 "Duke is doing wonderfully! He's so smart and is learning lots of new tricks!"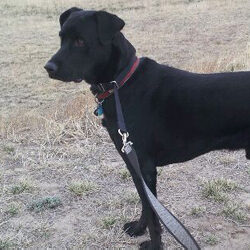 "While Mom is at work all day, I spend the day looking after my grandparents. They love me. My grandma always tells me I'm her boy and that I'm handsome. As you can see by looking at my picture, she's right."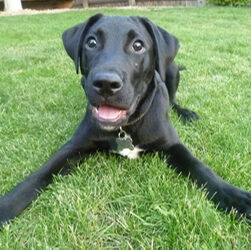 "Beau's just great with our girls and loves curling up with the baby even though she can be somewhat less than gentle when grabbing his fur."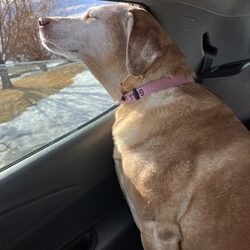 "Anna is so great. She is curious, loving, potty trained, eater, player, sits, lays down, & is a very good walker. don't know what else to say except thanks. The picture shows how difficult it will be for her to get comfortable in her new home."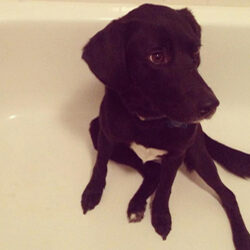 "Blitz has a personality unlike any dog I've ever met, she is sweet and cuddly, but energetic and always up for any adventure!"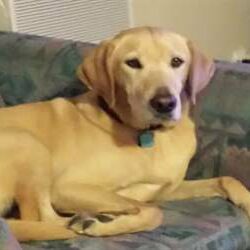 This is Tebow. We rescued him 3 years ago. Best dog we have ever had. He goes to work every day with me. Here he is relaxing in a pet friendly Motel in Estes Park.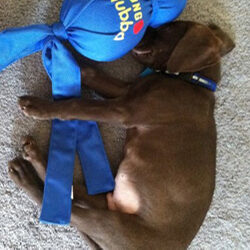 "Thank you so much for giving us the opportunity to adopt Roscoe! He's been such a gentleman and so well-behaved."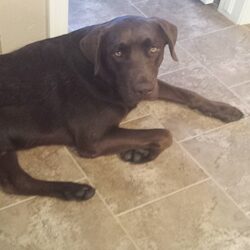 Words can not express how thankful we are to be Shane's New Family . He is smart,funny, and such a little lover which means many wets puppy kisses :). He is doing well and adjusting to a home full of furry friends and humans that love on him daily. He has enjoyed walks and meeting the new neighbor kids and dogs. Going on a car ride with Tony and taking a shower to look his best.. Today Tony his puppy brother taught him how to talk. I think he has learned how to say that I love you from listening to Tony. And we had ice cream for the first time. Thank you so much Rocky Mountain Lab Rescue for letting us adopt him.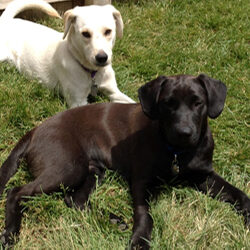 "Sheffield is just the sweetest puppy ever. He loves fetch, snuggling, and wrestling with his older sister."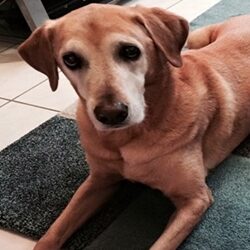 We adopted Snickers 7 years ago and are so grateful we did. He is an absolutely amazing soul and we love him with all our hearts. He has spent the last six years living in Germany and traveling throughout Europe with his family (us). We just recently returned back to the states and he is currently spending his golden years on the couch in the air conditioning. He does not care for this Georgia heat 🙂 We can never put into words how thankful we are to Rocky Mountain Lab Rescue for making our lives richer with Snickers in it. That is Snickers best friend Jordan on the right!!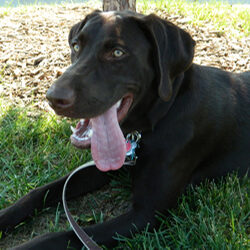 "Meadow competed in her first dock jumping competition last weekend, and she ended up taking third place overall in her division!"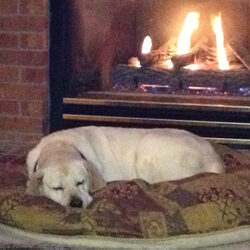 We adopted Anna (now known as Annie or Ann) in October 2017. She was a bright light and great companion to Ollie after losing our Gus Bus in May 2017 (both RMLR alums). After being with us for over four years, she is most comfortable lounging on a recliner and spending most of the day sleeping, in between spurts of playing or showing off her bossy attitude. We just love her! Thanks RMLR!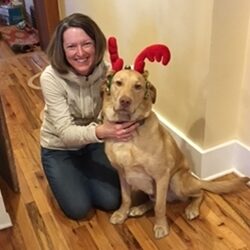 Timbo is a sweet boy who has found a place in our home and hearts. He loves everyone, and anyone who meets him adores him. Like all the other Labs we've had the privilege to own, he's a character. The last picture is typical of how he sleeps every night. When our boys go to bed, and the house quiets down, Timbo heads to his kennel and puts himself to bed. We're so lucky we found Timbo.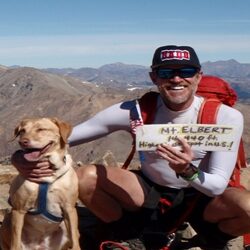 When I rescued Sammy at 4 months old, her extraordinary puppy energy and was so challenging for me and my dog Luna for the first several months, we weren't so sure Sammy would work out for our tiny family. She wasn't very responsive to training and I tried a lot of means and methods, till one of the instructors in our adventure sports school Sun Dog Athletics gifted us a ski-joring harness set-up. We pursued hiking including some 14ers, snowshoeing, alpine ski-joring/skinning, even sledding and ice fishing connected as a team. Once we harnessed the power and Sam found her special purpose, we've risen to new heights ever since. Thanks again RMLR! Thanks so much for all you do to change lives, for both dog's and their people!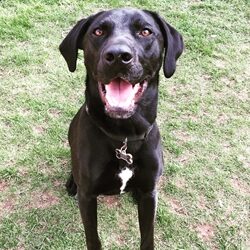 We adopted Cash (formerly Oscar), when he was only 9 weeks old. He is now 2.5 years old and has been a great addition to the family. Thanks RMLR! - Katie & Kyle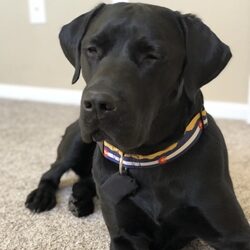 Ralphie (f/k/a "Bingo") is such an amazing dog, and we adore him. He is so smart and loving, and we could not ask for a better addition to our family. Thank you, Rocky Mountain Lab Rescue!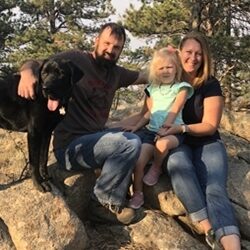 I just wanted to say how thankful and grateful we are that you guys allowed us to adopt our dog. Max (formerly Tommy) has completed our family and we love him so much. He's doing very well, here are some recent pictures of him. Thanks again for bringing us together. The Planansky Family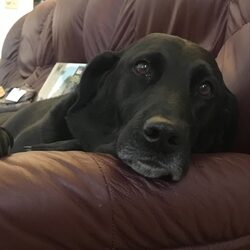 This is Ela. She came from RMLR as a pup in May 2013. She started life as a Denver city dog but we since moved to 20 acres in Wyoming. Ela loves chasing jackrabbits around the property and running with the kids of 4 wheelers. She is the absolute sweetest lil lady and so typical of lab temperament, loves water, chasing birds and at the end of the day takes her spot on the couch to watch tv with the family!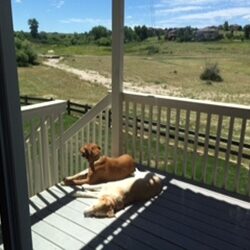 Honey (the darker) was called Ginger when we rescued her. She was shy and 3 other families had refused her once they met her because she was so scared. She was afraid for us to pet her. Slowly she warmed up and comes running for love when she sees us enter the room. She even goes up to some new people at times. She loves running the trails. She also adores her sister dog Rosie. Together they keep the yard clear of any rabbits and deer and continue to hunt for the best sunspots. She is sunshine in our day.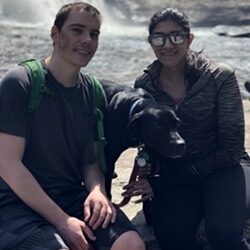 My wife and I wanted to give an update on our rescue. We rescued Laiken "formerly Oakley" two years ago and we can't imagine our lives without her. She came to us scared and with tapeworms but has quickly grown into a spoiled princess. Thank you so much for all that you do.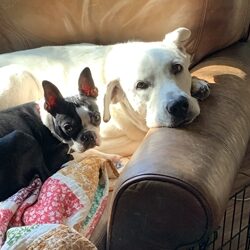 We adopted Reese in 2012. We renamed him Max, and he is such an amazing sweet patient peaceful boy. We picked him up on Christmas Day, and he continues to bring us joy. Thank you, RMLR!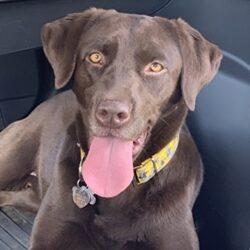 I adopted Hazel back in February - she had some separation anxiety issues but we began working on that day one. We are happy to report that she has overcome the fear of me leaving and is a happy, healthy girl! She's my ray of sunshine and I am so thankful to have her by my side!
Memorials
In loving memory of Tim and his lab, Honey
Tim and Honey grew up together from second grade to college. They merrily romped through Tim's Colorado childhood. Tim was a technological wiz with the artistic soul of a musician. A city-dwelling country boy who loved the Colorado mountains and the California beaches. His friends say that his most wonderful attribute was his kindness. He loved all of God's creatures, but most of all, Labrador Retrievers. Of his lab, Honey, Tim would say, "she had two speeds, lazy or crazy". We know they are together again forever.
In loving memory of Cooper
In memory of COOPER our amazing Lab rescue. Cooper was an amazing member of our family – when he came to us at one-year-old (2012) he had been neglected and starved, he came into our family and quickly became "one of the pack" with my seven children. Sleeping with alternating kids on comfy warm beds, playing ball in the yard (and occasionally the house haha), camping, hiking, running, swimming-he was part of it all. He was a quick learner and soon became proficient on all the trails in Boulder and knew every water hole along the way. He was an amazing boy and is dearly missed. He passed on October 31, 2021 suddenly of a hemangiosarcoma after a week of hikes and swims. Thank you RMLR for all that you do! Sincerely, The MacArthur Family And Cooper 🙂
In loving memory of Norm
Norm's zest for life was exceeded only by the incredible love he shared with all of those around him. His passions for motorcycles, fishing, Nebraska Cornhusker football, NASCAR, Labradors, and the Rocky Mountains he called home were always evident in his infectious laugh, his radiant smile, and the huge heart he wore on his sleeve. No matter where he was or what he was doing, he was the favorite person in the room and words cannot describe how much he will be missed.
In loving memory of Romeo Sebastian Gonzales
"My Life, My Love, My Beautiful Brown Boy."
In loving memory of Saffron
Saffron (aka Miss Saffron, Sweet Saffron, or Girly Girl) sadly lost the fight against cancer September 2, 2015. She was a chill, fun-loving lab that was ready to become anyone's best friend, 4-legged or 2-legged. There wasn't a soul she met that didn't fall in love with her and she with them. She had a special way about her and cashed in on her charm by receiving extra special privileges after her procedures at each of the Vet's Offices. Unfortunately, she never got to experience her furever home, but we hope that she enjoyed her foster brothers' playful antics, comfy beds, and camping trips during her last few months in her foster home. She had many fosters that were willing to help out and in turn received the unconditional love from a wonderful lab. Run, free of pain, sweet girl, you will be missed.
In loving memory of Leroy
It's with a heavy heart that I tell you that Leroy, a former RMLR alumnus, went to heaven last night. Last month, we learned that Leroy had a Cancerous tumor on his spleen. We sought emergency surgery to remove the tumor and spleen and were hopeful for a full recovery because there wasn't any metastasis to any other organs. But, pathology later discovered the tumor was a very aggressive, Hemangiosarcoma (Cancer of the blood vessels) and was only a matter of time before the Cancer returned. The vet gave Leroy 1-3 months to live, and he battled for about a month before losing his fight last night. Leroy came to us in September of 2011 with an abusive history, a fear of men, broken front legs/paws, and orthopedic braces. We had his legs surgically repaired to relieve his leg pain, but most importantly, we smothered him in love to relieve the pain that wasn't visible. Leroy responded in such an amazing way! He was like a puppy again, and maybe enjoyed a puppyhood innocence because he was denied that earlier in life. Leroy was a true leader in our family pack. On walks, he demanded to be out front and would often hop around if my wife and I and our other dogs weren't walking fast enough. Leroy was the comedic genius within our family. He would subtlety ask for attention by bringing our shoes into the living room from another room and just drop them one by one on the area rug until we paid attention to him. If that wasn't enough, he would go into my closet and pull a sweatshirt from the rack and bring it to us, knowing we would have to say something at that point. He never destroyed any of these items, just brought them to us as props for love and attention. Leroy was the brains of the bunch too. He would go grab his bed by the edges and pull it into the living room if that's where we were hanging out, position it on the floor, and lay down. And, he would automatically go to "his room" when we were leaving for work every day without being told to do so. Leroy found a lot of joy in pleasing us in the simplest ways. Leroy was a cuddler! He loved being close to us, would stare at us from the edge of our bed until given permission to come up, would often share the same bed with his brothers, and would let his brothers rest their heads on his back as they laid in the front room. Leroy was "LOVE" in the form of an 80 lb. chocolate lab. We are so thankful to RMLR for allowing us the honor and privilege of being his parents for the last 4 years. A special thank you to Mesa Vet Clinic's Dr. Horst, Dr. Bub, and Dr. Kerrihard, Orthopets' Dr. Mich, and the countless other doctors, therapists, and technicians who treated and loved Leroy over the last 4 years. Leroy rescued us, not the other way around, and our lives are more enriched by having Leroy as a part of our family, if just for a short time. Respectfully, Chad & Becky
In loving memory of Axel
Axel came into our pack as a rescue 61/2 years ago at the age of 8. He had been left on a chain in a yard and was very obese and under loved. He mixed right in with our 6 Siberian Huskies and became our loyal and loving companion. We had never had a Lab in our lives before Axel and he showed my why the breed is treasured as a family pet. As he grew older he developed severe arthritis throughout his body. To help him with this we enrolled him in a canine swimming program when he was 12 years old. He loved all of his friends at Bailey's Journey Canine Swim and was able to stay active for 2 and ½ more years before he was taken by a sudden illness. Axel is missed by us each and every day. RIP sweet boy. Your companion humans,Patty and Russ
In loving memory of Bob
It is with great sadness that Bob lost his battle with Degenerative Myelopathy on July 16, 2015. He was adopted from RMLR on June 10, 2008. He was a gentle giant lapdog, weighing in at 110lbs. He had a sweet soul and loved his people and dog friends more than anything. Thank you for bringing him into our lives. We were honored to be his people for 7 years. Bob came from North Platte, Ne at the age of 3 and quickly became my second son. I will forever miss my shadow..... Xoxo
In loving memory of Kathy Quirk
Dear one and all: My name is Jesse and I am one of the RMLR labs that found a new home. I am so sorry to report that a few days ago my mom, Kathy Quirk, went to her forever home and I miss her so much. Kathy was a true dog lover and spent much of her time caring for, loving and protecting us. My two sisters, Kelsey and Shannon were with her for thirteen years before chasing the Great Tennis Ball in the Sky. After that Kathy reported for duty as a RMLR volunteer Foster Home. That is where I met her. Kathy lived in town, but we got to go to the condo in the mountains, often with Kathy's sister, Eileen. It was great fun to be with them because they were so full of love and affection. I think they were like that a lot. I'm living with Eileen now and that's so cool because we get to share our memories of Kathy. I guess the best thing is that Kathy, and her mom, are now together. I know Kathy often wanted to talk to her mom, and now I guess they'll be able to. We'll all miss her very much. I mean really a lot. But my guess is that she's out there somewhere with Shannon and Kelsey, throwing an old tennis ball and smiling. She was like that. Bye, Mom. Love, Jesse
In loving memory of Casey
We truly did love him… I loved him before I even met him when I first saw his pic on your website. He was such a sweet, gentle boy. He loved Jeep rides, hiking, squeaky toys and ear scratches. We have a place in our backyard in Evergreen that I call our "Magic Tree" because there is this little pine stubbornly growing out of solid rock and from that perch the view is beautiful and the setting peaceful. The pic of me and Casey is at the Magic Tree. He only hiked up there once with me but at least we were able to give him a little magic and lots of love in the short time he was with us. Glad we were able to comfort him through his illness and grateful that he is not hurting any longer.
In loving memory of Selma
Dear Selma, From the moment we met you, we knew you were meant to be with our family. You were adored by all who met you for your quiet, calm, loving, and sweet demeanor. We miss you lounging on the sofa with us while we watch TV. We miss seeing your wagging tail and soulful brown eyes each morning as we get ready to start the day. We miss watching you proudly walk home from the park with the ball in your mouth. Your heaven on earth was the lake up in Canada where you spent your summers. We will never forget how our big, lazy girl flew off the dock with such surprising vigor after a tennis ball. You spent your last summer going for boat rides and lounging on the dock surrounded by family and friends. You were a dear, sweet girl and we were so lucky to have the opportunity to adopt you from RMLR. You are missed by all of us, especially your lab brother "Buster" and cat, "Woody". You will forever remain in our hearts. The Fenton Family
In loving memory of Charlie
His tail was always wagging and he seemed happy to the end. I will always cherish the time we had.
In loving memory of Madel
Madel, affectionately know as Monkey, sadly lost his courageous battle with distemper. He was a sweet, beautiful boy who touched many lives in the short time he was with us. We are so grateful that he came to RMLR and was able to experience love, kindness, and warmth from his foster homes and everyone who took care of him. His story reminds us all of the importance of vaccinating our pets, supporting rescues who continue to fight the battle against irresponsible breeding and reminding everyone to spay and neuter their pets. But most importantly, ADOPTING a dog in need. Your generous donation and support will help us win this battle and help puppies like Madel. We continue our mission in his memory.
In loving memory of Beaumont
"My candle burns at both ends It will not last the night; But ah, my foes and oh, my friends- It gives a lovely light." Edna St. Vincent Millay 1920 We were blessed to have Beaumont "Beau Diddles" (as he was lovingly called at home) in our lives from May 31, 2013 through his passing on August 18, 2013. He was a bright light who had a personality that was priceless and touched everyone he met. He was always happy and never met anyone he didn't like or didn't like him. In the short time we had him he was happy and had a great attitude even though he struggled with most breaths. Words can't express the emptiness he has left in our home. I can only pray that he has run across the rainbow bridge and is now able to run and play as a Lab should.
In loving memory of James Lindeman
In loving Memory of James Lindeman. "Unless Someone Like you cares a whole lot, Nothing is going to get better. Its Not." - Anna Lindeman A wonderful tribute to Jim...to continue to give to those he loved! We loved you Jim.....you were such an honorable man. - Audrey Tew In memory of James Lindeman and his dog Max Virginia Lemahieu, Stacey Browning, Michael Sylke, Palmer Engineering, Annah Ardrey, Jeff Hoy, Davig Financial Corporation, Mitchell and Cynthia Rebar, Dr. John Ashley, Dr. Peter Lindeman, the Dept. of Biology and Health Services, and Ann Hendrix
In loving memory of Hoss
Rescued March 19, 2011- Euthanized July 1, 2011. After battling cancer over the last few months the decision to end Hoss's suffering came on Friday July 1, 2011. We all know this a decision no animal lover wants to make, nor is it an easy one. Hoss touched so many hearts within the Rocky Mountain Lab Rescue but none more so than the hearts of Foster mom, Melanie and her family. We cannot thank them enough for their kindess and generousity during Hoss's most dire time of need. Our thoughts and prayers go out to them as well as our deepest gratitude for caring so deeply for Hoss. Thank you so very much!
In loving memory of Britain, aka "Duke"
Britain, aka "Duke" was rescued from "death row" on June 30, 2012 by RMLR. He went to live with his new foster family the Borton's and quickly became an integral part of the family. From the very beginning you could tell that he was so grateful to be rescued and be part of a new "pack". From the tail that never stopped wagging, to the "mischievous" look in his eye, to the "happy" sounds he made while playing with his toys. It was a joy watching him gallop around the yard, throwing his toy in the air, shaking his head, and enjoying his new life. He was not only fun to watch, but he let you know that he really loved his new life and for being a part of a family that truly cared for him. He had a very "sly" way of crawling in your lap; one minute you were scratching him on the head, and the next he was in your lap with his head on your shoulder. He was such a snuggler, and he thought he was small enough to fit on any lap and in any chair. Duke found his forever home on July 30th and quickly won the hearts of his new family the Blue's. Just a few days later, on August 2nd he came down with a cough and was treated for a respiratory infection. In spite of the efforts of his new family and their vet his condition continued to worsen. On September 6th Duke left us- a very sad day for all who knew him. Duke's playful and loving spirit and the joy and affection he brought to those around him will be sorely missed. Even though he was only in our lives for a very short time, he managed to leave a lasting impression, and the reminder that you are never too big to snuggle in the lap of someone you love.
In loving memory of Jack
Jack was a super-sweet, wonderful dog, and it was such a blessing to have him spend the last 20 months of his life with us. He was loved and is deeply missed. His age at death was around 14 1/2 – 15. He still loved his soft toys. We are so grateful to RMLR that Jack was rescued from the shelter in Cheyenne, and fostered and loved for so long by Connie, until he could come and live out his life with us. Thank you so much! Joanna Schoderbek
In loving memory of Tobias
When our 13-year-old Chesadore died we adopted Tobias to fill that empty space, we didn't realize how perfectly he would fit. From the first night we met him, he was easy to fall in love with. His personality was as big as his heart, he loved listening to Michael Jackson, greeting us with Jazz hands, ear rubs, being read to (The Pokey Little Puppy was his favorite), and of course drinking from the sprinklers. He quickly became a comfort and play pal for our terrier, happily sharing his toys, treats and bones and attention from friends and family at BBQs. We were happy to give him his forever home, even if it was only for a little while; we could never have paid him back for all the love he put into the world. He will always be loved and is missed. Adopted November 2012 -Left us on July 9th, 2013 Jordan Reck and Robyn Phelps
In loving memory of Jackson
We feel blessed to have had [Jackson] be a member of our family, even if it was for only a short time. He was loved beyond belief and our hearts are broken. Thank you for bringing him into our lives! Katie Stowe
In loving memory of Porter
A beloved labrador who recently passed and is sorely missed by his significant people, Sean and Abigail Hinga of Denver. This small gift is being given to assist your organization with its mission. Thank you for the work you do. Leigh Hill & Chris Bohn 11/27/2011
In loving memory of Mary Beth Piercy
RMLR Adopter and Volunteer The Huigens/Hill Families, Deer Creek Animal Hospital
In loving memory of Brownie
Brownie came to her forever home with us in August 2009. She was a happy cheerful dog, always energetic. She loved playing ball and chasing the squirrels in our yard. She was Kyle's best friend, always ready to play, listen or just hang out with him. Everyone was her friend, even if they didn't know it yet. She woke up every morning, happy to greet the day, ready for anything. On her second evening with us, Brownie encountered a skunk in our back yard. It was about 10:30pm on a Sunday night. No pet stores were open. We bought tomato juice and bathed her in the bathtub. She didn't like it, probably thought she'd joined a crazy family. For sure, she was cemented in our hearts, since we never considered sending her back to her RMLR foster home. Brownie was a real snow and water dog. She'd tunnel in the snow and come up with a huge grin on her face. She'd catch snowballs and then be puzzled when they broke in her mouth. She had a great time at Dog Days at the Bay, swimming and running with all the dogs. She'd stop by her people every now and then, just to check in and make sure we were there, then run off to play with her canine pals. Brownie was the perfect addition to our family. She fit right in, always ready to please. She learned the house rules very quickly, like no jumping on the cat, unless Sushi ran first. She was more interested in playing with her classmates in obedience class than learning commands. Still, she showed that she knew what was expected, and graduated with honors. Brownie loved to go anywhere with us. Two of her favorite words were car and go. One day we went to Estes Park. It was a long day, lots of time in the car. She liked the stop at the dog park. She was less thrilled with Rocky Mountain National Park, since she had to stay on her leash. At the end of the day, we could tell by the look on her face that, if this trip showed what her people did when they were gone, she was just as glad to stay home. In August 2011 she was diagnosed with atrial standstill. Unfortunately, this is a fatal heart disease that affects young dogs. Brownie died on January 31, 2012, just before her 4thbirthday. We miss her every day. Niki Winchell 3/9/2012
In loving memory of Luther
A treasured member of our family.
In loving memory of Atticus
A treasured member of our family.
In loving memory of Sammy
A treasured member of our family.
In loving memory of Sonny
He was filled with love for all the people he met. I am so lucky to have had him in my life. Paula
In loving memory of Jameson
He died of parvo shortly after arriving to Rocky Mountain Lab Rescue. Please make sure to keep your unvaccinated pets away from other animals and sources of disease.
In loving memory of Sammi
With a heavy heart I write to let you know that Sammi (Minty adopted 2/09) has passed due to complications from lymphoma. She fought hard and hung in there longer than her vet thought she would. He has remarked on several occasions that she was one of the toughest dogs he has ever worked with. My family would like to thank RMLR for the opportunity that you gave us in adding this dear soul to our family. Sammi was an amazing dog. Sincerely, Ann Wiemert-Slater & Family.
In loving memory of Lilly
We adopted Lilly (the artist formally known as Aster) from RMLR in November 2011. We originally decided to adopt through RMLR because of a beautiful brown lab named Hershey. We have two cats, Kit Kat and Snickers, and thought it was meant to be. It wasn't - evidently Hershey wasn't a fan of cats or children. We through the website and decided to meet Aster. I was nervous at first because I had never had a dog as an adult but we decided to go ahead and adopt her. Lilly was the light of our lives. She was the most perfect dog we could have asked for. She outsmarted us when it came to getting to the litterbox, the trash, and food we thought was stored high enough. Once we even came home and found an empty bread bag in the pantry (the door was shut when we left and shut when we came home - I don't think we will ever figure that one out). In addition to being smarter than us she also trained us well. Our backyard just had rocks and pavers so we had to train her to go potty on the rocks (at the time my son wasn't strong enough to take her out front by himself). Every time she went potty and came back in we would give her a cookie - She learned to go out and go pee, come in, then five minutes later go back out to poop JUST so she would get two cookies (I mean, we gave her cookies all the time so it's not like she had to work for them lol). Two years ago she tore her ACL in her back left leg and we were at the vets office two or three times a week for about 4 months. She LOVED going to the vet because they loved her and gave her lots of cookies too. She would sit there staring at our vet like she was listening to every word she said and her eyes would light up when the vet would cave and ask her if she wanted a cookie. We bought a bigger couch so there was always room for the three of us to lay on it (me, my son, and Lilly) and Lilly always loved to sleep right next to me in bed. In July of this year she started falling over and losing her balance and I knew something was really wrong. We took her in and discovered she had cushings disease. Normally this can be treated but in rare cases it is caused by a brain tumor. Lilly got the luck of the Honesto's and ended up with the kind that is caused by brain tumors. We have loved on her as much as possible since then and I knew back in July she probably wouldn't back in until the end of year. This month would have been our 4 year anniversary with her and it wasn't nearly enough time. Thank you guys so, so much for doing the work you do that brought her into our lives. We might have initially been the ones to rescue her, but like you know, she ended up rescuing us.
In loving memory of Jackson
Jackson went through a lot in his life, and he was an amazing trooper. He had dignity and grit, opinions and heart. We loved you, bud! And we know you knew it. See you on the other side. Joanna & Maris
In loving memory of Luke
On Tuesday, March 29, 2016 at 9:31 am, my Best Friend crossed the Rainbow Bridge. Luke, you were a special gentle soul on this earth. You were a blessing to have in my life. I love you and will miss you greatly. RMLR, In early 2008 I was so very fortunate to find your website and see the beautiful mug of Luke. I couldn't forget that face and soon he was sharing life with me. Thank you RMLR for the work you do and the introduction to the love of my life. They wind themselves around your heart and you are changed forever and for the better. Christine Landry Luke - Late 2006 thru 3/29/2016.
In loving memory of Loki
We adopted Loki in March 2012, when he was about 4 years old. His background wasn't particularly clear, but it was obvious that Loki came from difficult circumstances. It took some time, but Loki was able to enjoy life and we took great joy in caring for him. Loki is just a very special dog. Loki was diagnosed with prostate and bladder cancer last July and was given 6-12 months to live. I am so sad to say that Loki passed away 3/18/16. I cannot put into words how wonderful Loki was. He was extraordinary and we are so glad that he could be part of our lives. Thank you RMLR for bringing Loki to us. We are eternally grateful. The McElwain Family
In loving memory of Terrance
We rescued Terrance four years ago from the Rocky Mountain Lab Rescue and he had been an owner-surrender after the tornado in Joplin. When a pet can show very human-like personality traits, it's natural for us to start thinking of them as nearly human in some ways. Terrance wasn't exceptional in this way but he certainly was special to us. He was joyous, happy, handsome, easy-going yet protective, and even a little jealous. He loved every person that he met and even tolerated a few other dogs to come close to his people every once in a while. If he were to run for president (of anything) he would win because everyone liked him in return (and because dogs don't get to vote). Terrance also loved ice cubes, coconut oil, peanut butter, belly rubs, "helping" me stretch after a workout, camping, car rides, and squeaky toys. He liked jumping into our bed, rolling in the grass, eating poopsicles in the winter, and being the center of attention. Four years to the day we got him (his "gotcha day"), we lost Terrance. All of us agree that four years wasn't nearly enough time. I can, however, say with certainty the he was loved and spoiled for the entirety of those four years. He has left a hole in our hearts as big as he was…100lbs of Lab/Newfie mix that made everyone smile. Patrick, Jenny and Kendall Bull
In loving memory of Duke
Duke was a 10 year old stray that wandered into a kill shelter in Texas in August and then found his way to RMLR. He tested positive for heart worms, and we were committed to treating them, but during his treatment he had some complications with his breathing. Twice he went to the ER for multi-day stays and had to be put into an oxygen chamber so that he could breathe. His doctors all agreed after extensive testing to continue his heartworm treatment, but we now know that despite all of the testing he had something else (likely cancer). Duke took a turn for the worse in January, resulting in another ER visit for the oxygen chamber. This time the doctor said that he couldn't be taken out of the oxygen chamber as the condition of his lungs had deteriorated so much, so we had to make the sad decision to put him down. Duke didn't get to live as long as we would have liked him to, but we are SO thankful that could spend his last months in Colorado, loved by everyone who was fortunate enough to meet him. We are also so lucky that Duke had wonderful fosters and doctors that took great care of him and always put his needs first. During his time here he had as much food as he could eat, nice comfortable warm beds to lay on, and all of the attention he wanted.
In loving memory of Buck
Our family is devastated from the loss of our good friend on July 18 2018. Buck (aka…Bo-Bo, Schmidlap, Buckmandoo, Buck-n-zee, Buckmiester, Buckeye Sprite, Me Bucko, Pass the Buck, the Buck stops here) lost to old age and Laryangeal paralisis. Buck came into our lives in February 2004 from the old Foothills/Golden Animal shelter in Applewood. He was full height and adult bodyweight so we assume he lived to an age of 16 and perhaps a little older, still it was not nearly long enough. He was more human than many people and lived a life filled with love in his forever home with our family in Bailey where he was praised and gushed over and given constant attention, the hole he leaves in our hearts with his absence is terrible. Buck had a huge part in our family, watching our two boys from Elementary school to manhood, Being an emotional anchor and best friend to all of us. He hiked fourteeners and camped with the boy scout troop in Bailey so many people there have great memories of everybody's pal Buck. He camped with his family and loved swimming in Wellington Lake, loved the Conifer Bark Park, waited for the kids to get off of the school bus every day and loved to bed down at night in his cubby and dog bed with us every night. He was a happy guy at all times and was part of the happenings at our annual New Years Party and other get togethers. He was well known amongst the folks with Rocky Mountain Vintage Racing and although he never could get a race car ride on track, he did get out on the race track with the club equipment van. Although never on a call (he didn't have spots) he did ride Platte Canyon Fire Engine 2 up Crow hill from a High School football game once back in the day. He loved being boarded at Alpine Mickeys dog care when we took a vacation and figured out how to work the fence latch so he and the other dogs in his group could get into the play area and get more time in the pool. He loved the attention he got with visits to the Patio at Mad Jacks Brewpub in Bailey. He was a welcoming host and playmate to another Lab, Carmine that temporarily lived with us in 2011 and again for the neighbors boys and dog Tulo after their house suffered a fire. He Was a welcoming companion to our 2 Tabby cats Charlie and Chester (Chester took to sleeping on top of buck the past 2 years) and welcomed in another lab Coco from Maxfund into her forever home over 5 year ago. Our family is so much richer for having the greatest gift that was Buck a smart dog full of personality and character like no other I have ever met. I only hope I can be half the man Buck thought I was, we are so lucky we had this time together and the family misses you terribly. You will never be forgotten in any way, such is the impressions and lessons from the life full of love you lived with us.
In loving memory of Dakota
Our sweet baby girl crossed over the rainbow bridge on February 9, 2019. She was diagnosed with T Cell Lymphoma right after Christmas. We were all devastated as Dakota was our everything. We adopted her from Rocky Mountain Lab Rescue in 2009 when she was 8 weeks old. She was a great family dog and watched out for my boys as they were growing up. She enjoyed lots of walks, camping, running, fetch and snuggling. She was never far from one of us. She spent her last 6 weeks doing everything she loved. She is greatly missed each and every day. We love you so much Dakota. The Thompson Family
In loving memory of Cosmo
In honor of Cosmo, beloved dog of Kellye, Mike, and Matt Crocker. Beautiful dreamer, sweet soul, constant companion, happy boy. His was a life well lived. Cosmo, you will be deeply missed and loved forever.
In loving memory of Baylor
I remember when Rocky Mountain Lab Rescue brought him over and the lady took him out his crate and he took off running. 20 minutes later I was able to get him into his new back yard. What energy and strength he had, After a few days of chewing on the furniture he finally settled down. I WILL MISS HIM FOREVER!! Too bad they can't stay with you forever, I am still in tears! Run fast little buddy as only you could. fastest dog I have ever had!❤️ The Bailey Family
In loving memory of LadyBug
In July 2012 I went to visit Lady at a foster home in Highlands Ranch. The foster mom was calling her "LadyBug," and I thought that was perfect. LadyBug rescued me that day, walking over and putting her lovely head on my thigh. We were together until October 4, 2018, when my vet told me that her symptoms and very sudden decline indicated probable liver cancer. She died with the gentle help of the vet and with her head on my leg. I miss her so much, and the entire neighborhood misses her. She is particularly missed by her best 4-legged pal, Miss Rocco, another RMLR sweetie, and her housemate Christopher the tuxedo cat.
In loving memory of Boomer
It's with a heavy heart that we tell you Boomer passed away peacefully this morning at home surrounded by his family. As we've moved through our many emotions feelings today my thoughts have turned to the lab rescue many times. I can't thank you enough for bringing this beautiful/happy soul into our lives. Boomer always taught us to see the joy in life. We adopted him in 2007 and got a short 12 years with him, but he will always be in our hearts. We very grateful your organization is there so we could have this beautiful boy in our lives. Bless you! The Deans Family
In loving memory of Finneghan (aka Tramp)
A number of years ago (2008?), my wife Heide and I adopted "Tramp", who we renamed Finneghan. When we adopted him we lived outside of FairPlay, CO. We eventually moved to Winthrop, Washington. Sadly, we put Finn down yesterday. He was such an amazing dog! He was always sweet, polite, playful, noble and such an amazing big brother to our other dogs. He was always happy, smiling any time you spoke to him. Everyone would always comment about how much he smiled! He even put up with one of our younger Aussie's Colby who even as a 3.5 year old, continued to use Finn's ears as a pacifier! He loved to ski, hike, mountain bike sit by the lake and just watch and he especially loved holding the couch down. Anyway, Thank you for letting us adopt this amazing dog! Such a special guy!
In loving memory of Kona, formerly Pancha
We rescued through you at the beginning of January 2012. Kona was the absolutely best dog we've ever had, and we had almost eight terrific years with her. Unfortunately, she was diagnosed with a moderately bad type of lymphoma just before Memorial Day this year. We did do one full course of chemo, but did not continue because she had bad side effects with all of the medications. The lymphoma was in remission throughout the summer, but it came back with a vengeance in the last few weeks. She crossed the Rainbow Bridge this afternoon. Thank you so much for all that you do, and for pairing us with the perfect dog! Chris and Nancy Furnish
In loving memory of Sammy, formerly Gilbert
We adopted Gilbert at the beginning of March, 2017. Renamed Sammy, he seemed to have a second or even a third life, as he was found on the streets of Missouri, transferred to Colorado, fostered, and finally adopted by us. Your resources helped him recover from heartworm and have healthier teeth (the dentist had to pull about 13 of his teeth!). We felt that we won the lottery - he was such a sweet dog, who always saw people and other dogs as potential friends. He enjoyed his daily walks, loved chewing on bones, and, most of all, kept a very close watch over his humans, sticking to us no matter where we were. It was with a very, very heavy heart that we had to say good-bye to him over the weekend. We will always remember and treasure the time and experiences we shared with Sammy (Gilbert). He'll be a part of our family forever. Thank you, Kristina and Michael
In loving memory of Luke
We adopted Luke on 10-15-2017, #16156. He had been heart worm positive (with damage) and had a TPLO before we adopted him.He was a handsome lively dog and remained so at the age of 10 .He was different in personality from any dog we'd had.He was smart and a challenge to understand and train.His past did not appear to have been good.His foster nursed him through his heart worm treatment and his surgery. Our goal was for him to find his "happy". He learned, he chased squirrels ,barked at deer , lived for walks and car rides, and learned to love cold and snow.Our Texas rescue became a "Mountain Dog". He was very proud to wear his red buffalo plaid fleece jacket in minus temps and grew a beautiful thick coat of his own.He was very treat motivated and loved to be told how handsome and good he was. He guarded the house from UPS (his arch nemesis ), birds in the feeder, rodents and mammals and any strange sounds the house made.He was our family member and best friend. He found his "happy". I am heartbroken to say his time with us was all too short. He developed a cough Christmas Eve that resulted in a diagnosis of a massive lung tumor that turned necrotic.He bravely fought to stay with us but the only choice left was to release him from his pain.He was euthanized on 2-01-2021.Our hearts are broken. He is now free of pain and any limitations and will be missed beyond belief. Thank you for having saved him back in 2017. He was a beautiful dog that deserved a chance. Darlene and Randy Hartford
In loving memory of Ranger
Today is a sad day. Our family awoke to learn of the passing of a dear friend, soulful companion, noble guardian, and spirited guide. While we are deeply saddened by the passing of our loyal furry family member, Ranger, we are also relieved that his time on this earth and his unique purpose in all our lives came to a natural end after a long and worthy life. These recent days and week(s) were - for our family and for a few of you on this message - trying, difficult, and confusing; especially as we watched and waited from near and far while Ranger fought to remain himself and uphold his unwavering sense of strength, duty, and companionship. Though Ann, PJ, and I were unable to be close to him in these recent moments, our family repeatedly discussed and embraced the fact that he was - as he had always been - a dog with a divine purpose. We pause to express a special "thank you!" to Uncle Bob, for being such a kind and loving friend to Ranger in these past months. I'm grateful for your adjoined journey and shared purpose as companions in these odd times. We're also deeply appreciative of Aunt Katie's care and sacrifice for Ranger in these recent final days. Now, some words for Ranger: Ranger, thank you for selflessly and sacrificially devoting your life with such loyalty to our home and our family, and for befriending and blessing us and so many others who benefited from your energy, enthusiasm, gentle spirit, joyful presence, and comforting companionship. PJ's words this morning, upon learning of the news, perfectly capture the poignant truth of such days: "I'm sad because I don't want Ranger to leave; but I know he's with Trooper .. and Grandma." Also upon hearing of Ranger's passing, our neighbor Greg (whom Ranger loved) remarked, "PJ, Ranger is kickin' it with Trooper in heaven bro! They movin' and groovin!!" This is our faith; eternal life in Love. In a spirit of faith and trust, our family has had to make many tough decisions this year (as have most); and perhaps the most difficult was the course we set for ourselves when we chose not to return to Denver (for the time being) in August. That decision was fraught with many tensions and turbulence's; not the least of which was the fact that, at the time, I had a strong intuition that we may never again get to see Ranger. I was struck by an awareness in August that I'd probably not have another chance to pat him on his head and tell him he's a good boy upon arriving home and walking through the laundry room door (our routine almost every time I entered the house in Denver). Even now I'm overcome with tears as I contemplate the fact that Ranger will no longer be at my side on those countless occasions when I leave the house for a business trip, and there will be a notable void at my side where a family member used to stand devotedly so I could grab his blocky head and say "Take care of mom and the boy while I'm gone!" These are moments of precarious positions, choices, and actions for all of us. Perhaps to you, as to us, 2020 has felt like the punctuating page in-between cluttered chapters; a placeholder separating "then" from "not yet." To me, the liminal nature of these odd days seems as though their entire purpose is to provide a space where we can bring to a close lingering threads and plot lines of life, personally and societally, if we remain conscious and present in this peculiar space (and contextualizing connection to prior events) as our World prepares for that which is "not yet" but imminent. Like the spirits of so many loved ones in all our lives, Ranger's is now amongst a myriad of souls who have finished their purpose on these pages. Recently, as I was grappling with the emotions surrounding my prior intuition that I'd not get to see Ranger again (and was surprised by how emotionally 'wrecked' I was in that moment of awareness that our family would not get to say "goodbye"), a good friend of mine said, "Dog's show us unconditional love; they're constant reminders of Grace in our lives ... they're like pure love by our side." Many of you probably know that Ranger was always eager to accompany me and our family as I would venture deep into the woods of the Rocky Mountains on countless off-roading and camping excursions. I'll forever recall with great fondness the notable change in my confidence, in 2009, when my journeys and wanderings in remote beauty took on a new sense of spirit simply because 'a dog' was at my side. Ranger was a co-pilot in the Range Rover; but more than that, in our world and in life. Our human world of late seems to me a place that is, at best, lurking in the shadows of Grace and Love. As I/we had done before Ranger came along in 2009, I/we will continue to journey through this shadowy world searching for new pages and new chapters written in the eternal ink of Love, Grace, and Hope. Maybe you've felt like we have recently; like our time needs courage-enhancing companions to help us venture beyond the chaos and confusion we create in our 'human' world so we can and breathe fresh air and draw inspiration from the raw beauty of creation which transcends man's fickle finitude. Yet, such journeys require our souls to venture deep into a wilderness of what is yet to come, and our effort to retrieve some beauty and goodness and bring it back to our cities and civic discourse will require Love and Grace at our side. I suspect that's why The Ungerlands are so sad today; our journey is not done, but yet another guide has passed. In that passing, their peace; but, also, an uncanny awareness that we must continue to traverse the trail of life ... and the next segment appears to be rocky, steep, and overshadowed.So, our prayer is that our family and all we love will find that person, place, or creature at our side that is the constant reminder of God's Grace and Love. Ranger was one of ours; and a strong and beautiful exemplar who will be missed. With love, PJU2, Ann, and PJ
In loving memory of Sofie
Sofie was brought to Colorado by RMLR in 2012 after being found as a stray in Missouri. That is all we knew about her. She was estimated to be 5 yrs old at the time. After 8 ½ yrs of a wonderful life together, sadly we had to say good bye to our sweet girl. On the evening of March 31, 2021, she wasn't acting right and we took her to the ER vet in Boulder. Her stomach had turned and there was nothing we could do to save her. At 13 years old with the basic senior dog ailments, it was time to let her go. I cried and cried and coming home without her was the worst ever. Such an empty house. Everywhere we went I was told, "what a happy dog". Everyone loved Sofie! We loved her with all our hearts and took her so many places. Mountain drives, dog parks, breweries, pics with Santa and the Easter bunny, RMLR 5K, visiting friends, long walks and swimming. She was Miss November on the RMLR 2018 calendar. SO many wonderful memories of our little girl. She will always be missed. Thank you to RMLR for the work you do for all these wonderful, deserving dogs. Diane and John Shofner
In loving memory of Zeke
Thank you for rescuing him. What an amazing boy! I loved him very much. Jill Haffley
In loving memory of Benny
My name is Deb Baca and my son Nick and I adopted Jack (now Benny) last April. Benny's first few days with us were rough. He was a runner and growled at me one morning when I went to get him off my son's bed to go out. I believe he went through a lot and found a home he loved. I think that one morning he thought I was coming to remove him from a home that he loved. We never saw anything like that again. We only saw true love! A few days later Benny was family! Benny slept with my son and when we weren't home he knew that was his bedroom as well. Benny was a great traveler as we went to Breckenridge and Denver for a few days. He was great in the car, hotels, hiking and walks. He was funny and loved to play with all his toys. He loved our hikes and walks. When indoors he was mellow and loved to hangout with us. He wanted to be wherever we were. He loved us and we loved him. He was perfect!! As you know Benny started to have pain in his rear leg. An x-ray should a mass and then we proceed with a biopsy. The biopsy came back negative for fungus, bacteria and cancer. Over the next month the tumor grew and Benny refused to use his back leg and any movement other then walking would leave him screaming. The tumor was in an area pinching on nerves and was inoperable. I am writing to tell you that Benny passed away last week. My son and I are completely shattered. We loved him so much! He brought us so much joy. We were looking forward to many years with Benny. We are grieving his loss. Deb
In loving memory of Levi
We adopted Levi in 2010. He was approximately 3 years old when we adopted him and he just passed away at the age of 14. He was the most loving lab one could ever ask for. Knowing his history of being abused before we adopted him, we gave him all the love he deserved and more. He loved his walks, his treats and just being with us. We will miss him dearly, and he will always be in our hearts. Donna and Rudy
In loving memory of Bear
Bear (2009-2020) Bear (fka Bocephus) came to us through RMLR in 2012. He was the epitome of the happy-go-lucky, fun-loving lab. He welcomed many fosters through the years. He shared his bed with them, used them as pillows, they used him as a pillow, and most importantly he showed them how great life can be in Colorado. He loved everyone and especially loved laying outside, watching the world go by. His presence and unconditional love will be missed.
In loving memory of Max
Our beloved dog Max passed away Saturday at home. When Max came to us as a foster dog, we had decided to only adopt smaller dogs going forward. However, Max insisted that he was now home, and not going anywhere. He lived with us just over five years. As you know, friendly Max loved people, and was always happy to have company come over. We miss him. May he rest in peace. --- Joanna and Maris
In loving memory of Konda
Konda's life started out a little "rocky" which many rescue dogs experience. But his life with me was filled with numerous soft beds, daily trips & walks in the park, special "touchdown" treats, home cooked gourmet meals, lots of ice water (he preferred it with ice cubes or so he told me) was a constant companion with unfailing love. I really miss him.
In loving memory of Maddie
In loving memory of our precious girl that we lost to dementia in late September 2022. We adopted Maddie (formerly Lindsey) from RMLR in May of 2008 and had 14-1/2 wonderful years with her. She is the first rescue that we have ever had, and was the smartest and most loving dog we have ever had! On the day that Maddie came to our house for a visit, my husband told me and our two kids that we were going to adopt the right dog, not the first dog. At the close of our visit, my husband picked her up and held her on his lap and she laid her head on his chest. He was sold! Like I said, she was the smartest dog we ever had! We loved her dearly and will miss her for a very long time!!!! The Lyons Family
In loving memory of Izzy
We adopted a beautiful, black lab named Izzy in 2013. She had two successful TPLO surgeries when she was young. After 10.5 years with her, we sadly had to say goodbye to her this week. I just wanted to share with you that she was such an amazing girl and to say we are heartbroken is an understatement, but we are so grateful for all the years we had with her. Izzy was unlike any other dog and so smart - she could open doors (both directions), she told us to be quiet when we got too excited watching football or hockey, and she could tell time as she always knew exactly when it was mealtime. She loved the snow, trying to catch squirrels, long walks, tennis balls (even though she destroyed each one), and carrying around the biggest sticks she could find. She wasn't just a dog or a pet, she was a member of our family. Thank you RMLR for taking Izzy in when her original owner surrendered her as it lead her to us. With gratitude, Amy and Matt Cook